| | | |
| --- | --- | --- |
| | ART AS SOMETHING MORE THAN ITSELF | |
ART AS SOMETHING MORE THAN ITSELF
I recently had the opportunity to work with interior designer Juliet Finkelstein, who works from her studio in Wimbledon (http://www.finkdesigns.com), on a commission for a group of paintings, and in the process I learnt a different way of creating art.
Most of the time art is produced in abstract, that is to say, without a specific context or setting. Working with a designer is a collaboration and the artist needs to be aware of the fact that the piece of art is part of a relationship, a synergy, with the setting. Here are a couple of examples of how Juliet uses art as part of her designs:
Juliet saw my work in Advocate Galleries (www.advocategalleries.com) where my work is exhibited on a permanent basis. She had been looking for art that would fit her clients' brief. She had undertaken the interior design of their new home, Peach House, and wanted a painting for their entrance which would bring indoors reference to the tree that gave the house its name. Juliet brought the clients to my studio and we discussed and agreed a project together.
Juliet's understanding of the overall design, colours and themes together with the clients' interests and family history was crucial. She was able to translate the clients' ideas into a practical language which enabled me to come up with a set of paintings which responded to their ideas and her overall concept for the design of Peach House.
When the painting was finished we all visited my framers, Ingo Fincke, in Battersea (www.ingofincke.com/about.html) and chose a style of frame which I have to admit I would not have chosen, had I been on my own, but which worked extremely well and enhanced the paintings and the decor.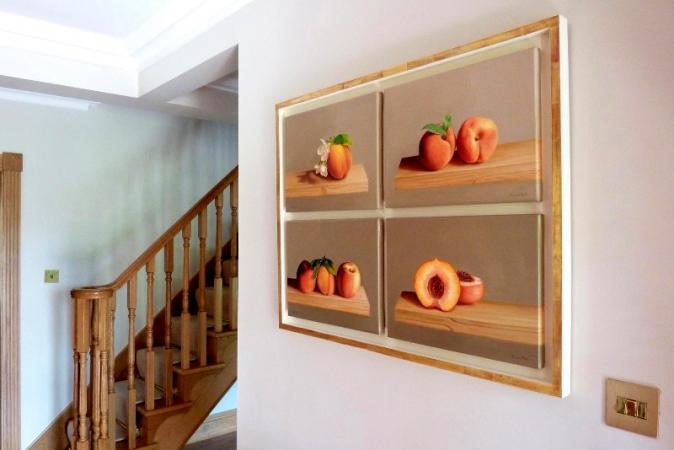 I look forward to working with Juliet on future projects.