I hope you enjoy this page. Please contact me at:info@trinidadball.co.uk if you wish to know more about my work, buy it or discuss a possible commission.
SOCIETY OF WOMEN ARTISTS - 2012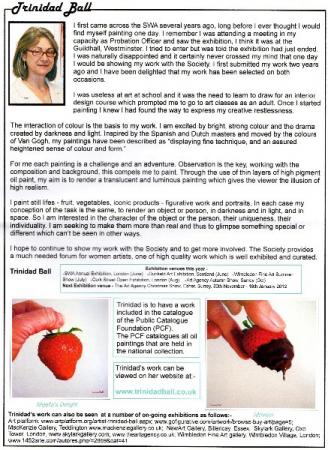 This feature appeared in the Autumn 2012 edition of the Society of Women Artists Newsletter. I was pleased to be selected this year for my second year running, when I showed the two paintings above.
UNVEILING OF PROF GEOFF WHITTY'S PORTRAIT
12TH DECEMBER 2010
INSTITUTE OF EDUCATION, UNIVERSITY OF LONDON
I was honoured to be asked to paint Prof Whitty's portrait for the occasion of his retirement from his post as Director of the Institute of Education, University of London. The portrait was unveiled on 12th December by Lady Elizabeth Vallence, in front of Prof Whitty, his family and members of Council. Here are some photographs of the event: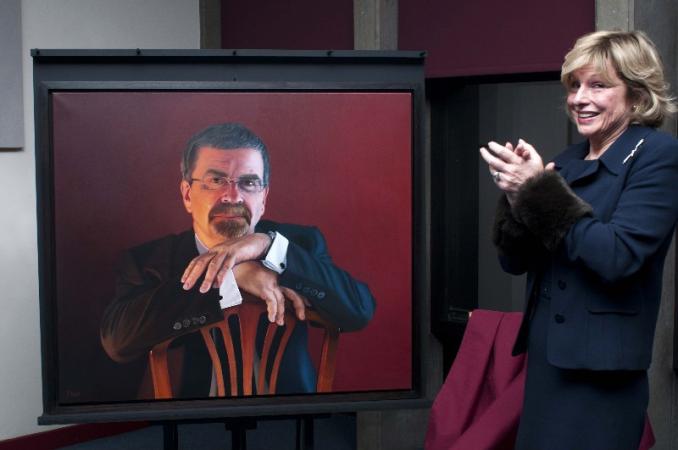 Lady Elizabeth Vallence unveiling the portrait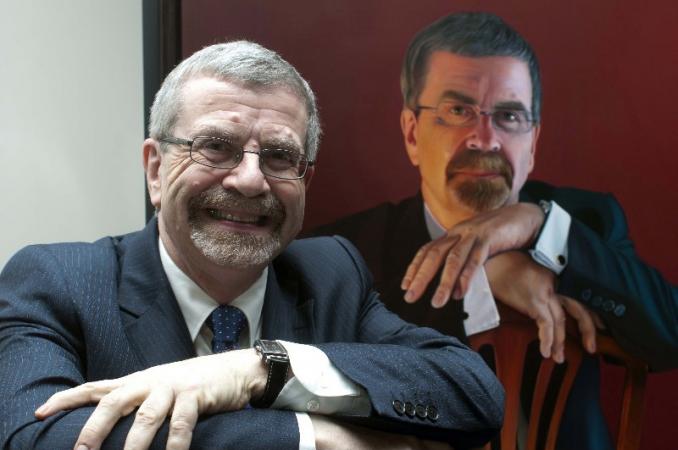 Prof Whitty with his portrait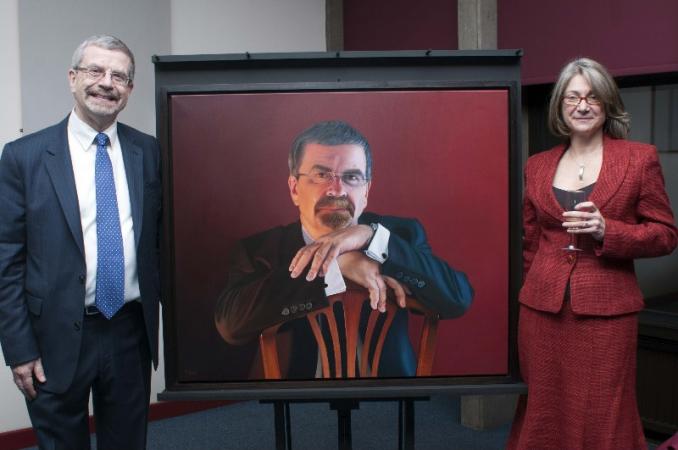 Prof Whitty and I celebrating the event
Photographs by Christina Panagi:www.christinapanagiphotography.com
Prof Dylan Wiliam, former Deputy Director of the Institute of Education wrote to say: "I think the portrait is absolutely stunning. It captures perfectly both Geoff's penetrating intelligence, and also his sense of humour, but also the portrait has a great deal of warmth. I can't think of the words to say exactly what I feel about the portrait—someone once said "Words do not reflect the world, not because there is no world, but because words are not mirrors"—but the portrait is a wonderful and generous illustration of the complexity of the man."
HAND MADE
14th October to 10th November 2010
Advocate Galleries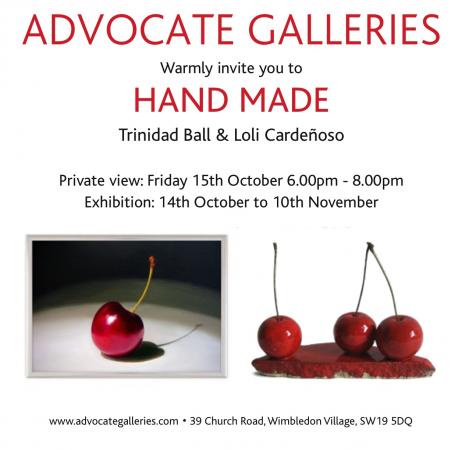 Having found inspiration in each other's work, Loli CARDENOSO and Trinidad BALL have created a collection that reflects this cross pollination. The result is an exhibition in which 2D and 3D artwork bounce of each other.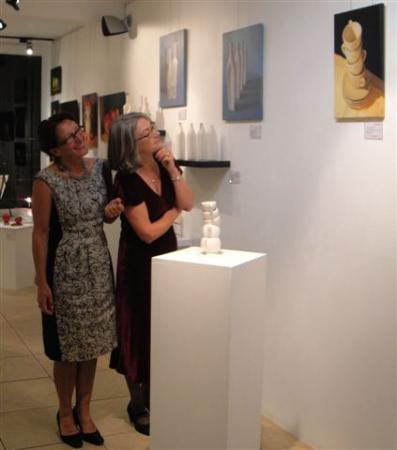 Loli and Trinidad admiring their 'Hand Made' work.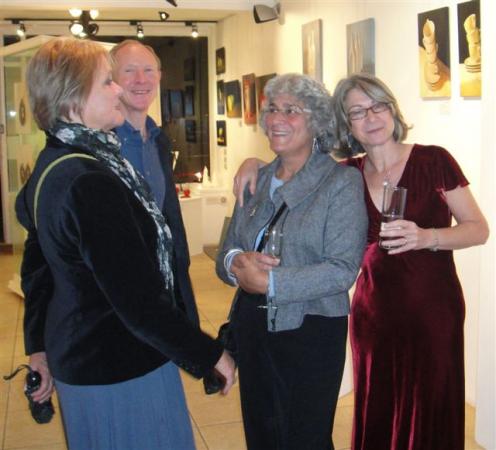 Greeting friends at the Preview of Hand Made
And an article from El Iberico (Spanish newspaper)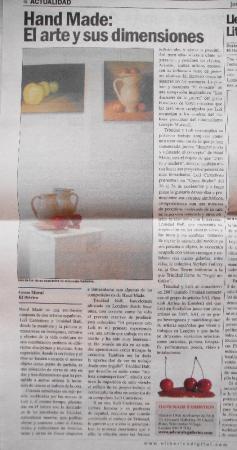 NEW YORK AAF
(with Will's Art Warehouse, www.wills-art.com)
29.9-3.10.10
New York, U.S.A.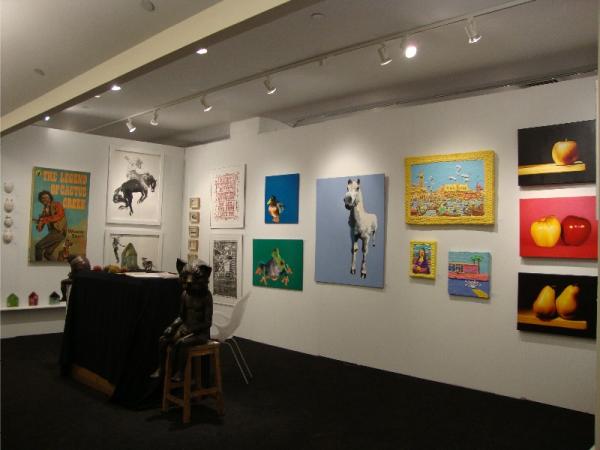 It was very exciting to have my work exhibited in New York.
MUERTO DE AMOR
24th September to 9th October 2010
The Bavan Centre, London
(with SAL (Spanish Artists in London, www.s-a-l.co.uk)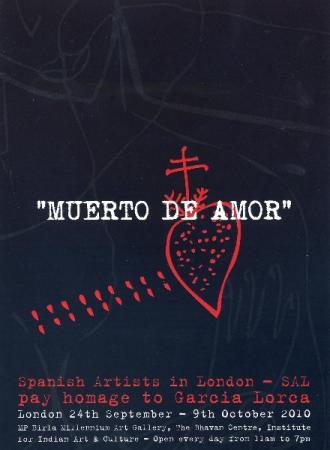 "Muerto de Amor" was an opportunity to work with colleagues from SAL (Spanish Artists in London, www.s-a-l.co.uk) and to celebrate the life and work of Federico Garcia Lorca.
My contribution: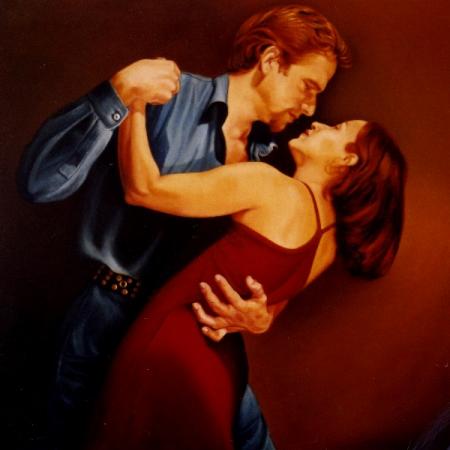 "Muerto de Amor", 80x80cms, oil on canvas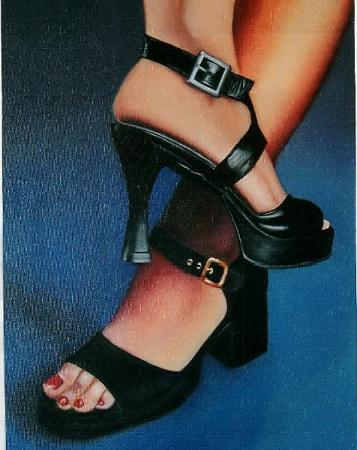 "Dos Muchachas", 55x45cms, oil on canvas
Comments from the Spanish Press about "Muerto de Amor":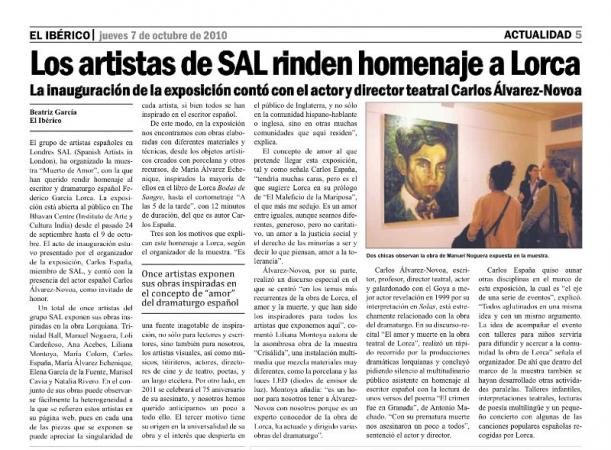 'SUMMER SIZZLE"
29th July to 15th August 2010
(with Skylark Galleries, www.skylarkgallery.com)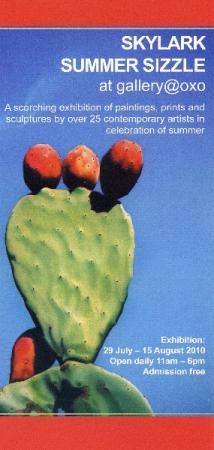 I was delighted when my painting "Higos Chumbos in the Sun" (80x80cms, oil on canvas) was selected for the poster and other publicity advertising "Summer Sizzle", an exhibition organised by Skylark Galleries, the collective I am part of.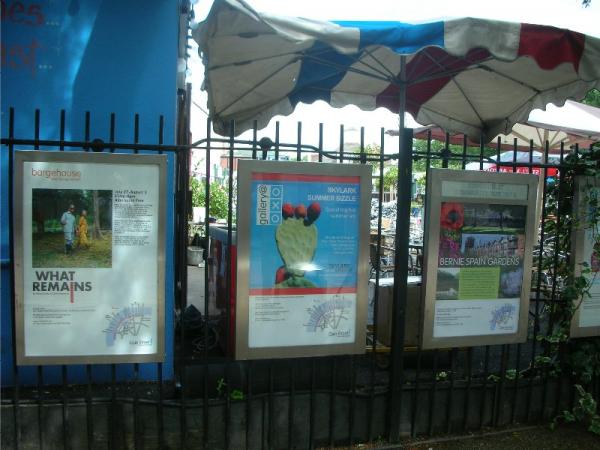 Trinidad's painting all over the South Bank!
TRINIDAD AND HER WORK FEATURED IN WOMAN AND HOME MAGAZINE, AUGUST 2010